10 Oct 2019
Last Few Days of the Downtown Stamford Farmer's Market!
Mark your calendars – there's only a few more Saturdays left of the Downtown Stamford Farmer's Market! Conveniently located blocks away at Latham Park (Bedford Street), the Farmer's Market is the perfect place to find fresh and seasonal fruits, vegetables, and organic foods.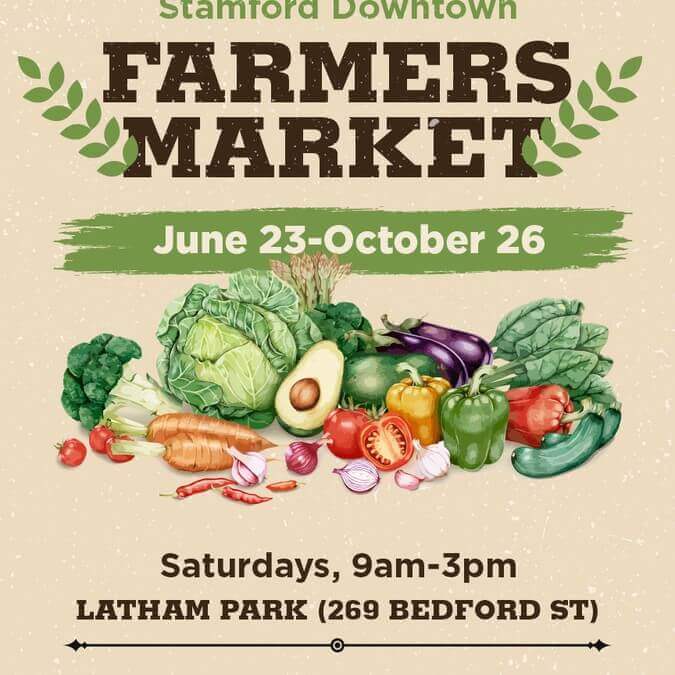 The weather for this Saturday (October 5th) is looking sunny and cool, with a high of 58° and low of 50°. Bring your friends, family, neighbors and make it a day in Downtown Stamford exploring the Farmer's Market!
Vendors include:
Country Farm: Fresh fruits and vegetables from Northford
Meredith's Country Bakery: Full line of bakery products and jam
Beldotti Bakery: Bread, pesto, mozzarella and sandwiches
Vesco Foods: Pickles, olives, olive oil, sun dried tomatoes, tapenade
Waterview Farm: Organic produce and free range eggs
Mill Pond Essentials: handmade soap, candles and perfumes
Amelia's Florist & Farm Market: Fresh fruits and vegetables
Country Farm II: Fresh produce, honey and maple syrup
Guasa-Salsa Vzla: Salsa dip with a tasting station
Biscuit and Bones: Homemade organic dog food
The Cakery: Freshly baked cupcakes
Guasa-Salso Vzla: Homemade salsa
Haute Healing Oasis: Essential oils and wellness spa
Kardamas Olive Oil: Fresh homemade olive oil
Oronoque Farms: pies, cookie and various other baked goods
Paul's Custom Pet Food LLC: homemade food and treats for dogs and cats
Triangles Eat: Baked triangle pockets with various fillings
Wanke's Yankee Hot Pepper Products: Various hot sauces and spices
The last day of the Farmer's Market is Saturday October 26th, 2019. Don't forget to bring your reusable bags!
Looking for some cooking inspiration? Check out this great article on "25 Fall Farmers Market Recipes" from TasteOfHome.com. Which one are you trying first?